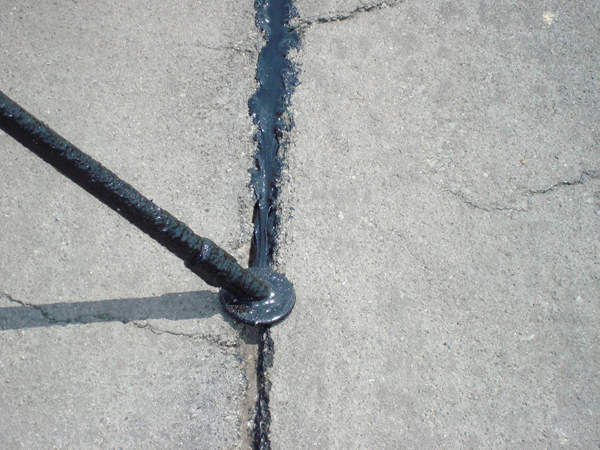 Professional Asphalt Crack Repair with Black Bear Sealcoat will lock out water and moisture that causes pavement failure.
Crack sealing is the most critical part of preserving the life of your asphalt parking lot or driveway – and the most cost effective. Stay ahead of cracks and you can help extend the life of your pavement many years. Black Bear has the expertise to provide superior protection against asphalt cracking and the elements that cause it.
Cracks in asphalt are most often due to its long-term exposure to the repeated temperature changes of the seasons and the elements of time. The expanding and contracting of asphalt – combined with the loss of flexibility in the liquid binder – causes cracks. If the asphalt structure is not sound due to improper construction this can also cause cracks, allowing water to seap down beneath the surface and cause the sub-grade and asphalt to fail. Once you reach this point in the process the asphalt must be removed and replaced, which can be a very expensive process.
Properly crack sealing your parking lot is the single best type of asphalt maintenance you can perform to maintain its life. Controlling the spread of cracks and limiting the amount of storm water that penetrates the asphalt will increase the life of the asphalt as well as the sub-base. This will almost always minimize the need for asphalt patching in the future.
Let's Get Started
Don't delay protecting your asphalt investment against the mother nature and the elements of time. Black Bear is the proven asphalt maintenance experts in your area. Give us a call or contact us for a FREE Quote on your project.