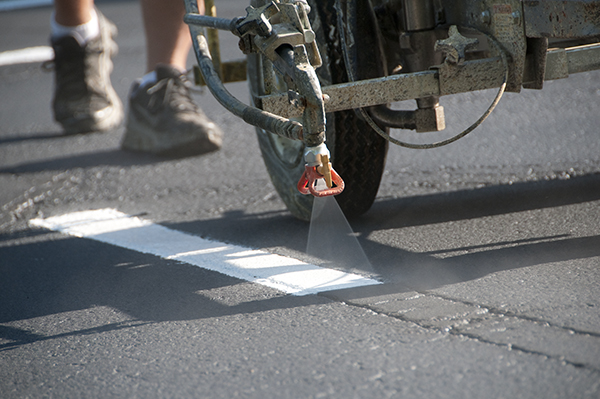 Black Bear Sealcoat Stands Out When it Comes to Quality and Customer Service
Black Bear Sealcoat is proud of its past, embracing old world workmanship and attention to detail, while embracing today's advances in technology with cloud base estimating and scheduling software. With over 15 years in the property maintenance business we are here to stay.
In many cases, we can provide you with your quote in minutes, not days, with our state of the art web based measuring software which utilizes high resolution aerial photography of your property. (This in turn saves us the cost of an on-site visit, which allows us to pass along a cost savings to you.)? Should you wish or require an on-site visit due to the condition of your driveway we are happy to do so free of charge. In addition, if you provide us with your e-mail address (we will never share or sell), we will send your detail estimate via e-mail so there are no surprises.  With Black Bear Sealcoat," what we quote, is what you pay," there are never any fast talking up charges.
What makes us different?
Almost anyone can sealcoat a driveway. Just like almost anyone can paint a house, but ever wonder why one job looks better or last longer than the next? It's a direct result of preparation of your driveway before we apply the sealer that makes the biggest difference. Black Bear takes it time in prepping your driveway. Our crews are NOT paid by how much work they do in a day, which results in the taking of short cuts, rather they are paid by the hour and receive bonuses based upon satisfied customers and how few call-backs we receive. It does make a difference.
Black Bear Sealcoat prides itself on using the finest sealer we can buy, and yes there are differences. We follow the manufacturer's recommendations and never add anything that is not called for(like extra water). Depending upon the time of year we will add hardening agents, fast or slow drying agents and always a heavy sand load which improves traction and adds to a longer lifespan of the sealer.
Crack filling is often the overlooked part of a quality driveway job. Again, it's the preparation of the actual crack before its filling that makes the difference. Black Bear Sealcoat is on the few companies in our service area that utilizes a hot air lance which uses a propane torch and compressed air at 2000 degrees to properly clean, kill any growing vegetation and dry-out your cracks before properly heated hot rubber is applied and then coated with a fine coat of black sand.
Call us by phone or fill out the Free Job Quote Form today.